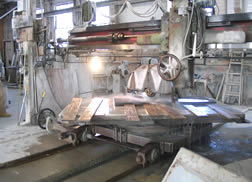 We are now members of:

We provide the following services to residential and commercial customers:
Assistance in the stone selection process
Custom fabrication with accuracy and quality
Template and Installation
Johnson Marble and Granite, Inc. is one of the largest custom stone fabricators in Rutland County, Vermont. We specialize in custom kitchen countertops, bathroom vanities and tub surrounds, fireplaces and tile flooring. Having been in the stone business for over 26 years, we are known for our experience, service, and high-quality workmanship with attention to detail. We fabricate every job from start to finish on site with quality experience in sawing, polishing, honing, edging, lettering, and even lathe-work.
ph.: 802-459-3303 fax: 802-459-3413
e-mail us: westie1@together.net
Mailing Address:
PO Box 645
Proctor, VT 05765

Street Address:
54 Main Street
Proctor, VT 05765